Aug. 2008 will have a trip to red China - for watching Olympic game, and for advanced studies on cultural & creative subject materials.

Reader's mail - Dave : .....the shark fins cutting through the grass and next to it ....... Everyone knows that is not the cover of any Styx album at all. Its the cover of the Gamma album "2". (Aug 2006)

Thanks for invitation from China Cartoon and Digital Art Festival, sponsored by some Chinese government units, i.e., Culural dept. (8, 2005)

"Journal of Comic art" of 2003 printing my graphic design was lost by post, fortunately, Dr Lent resend another copy to me. ( 2005)

For these 4 or 5 years, this site has commented quite a lot on international works, from now on, this site will comments more on Taiwan affairs (arts, political, etc) (7, 2003)

Asia and Canada, etc are fighting against SARS, I am fine and staying alive, thanks a lot for regards from FECO general President and general Secretary (6, 2003)

July 4 - July 15, 2001 I will go overseas for gathering cartoon-materials and books, all e-mails to me will be replied lately.

Thanks for a few invitations from int'l cartoonists clubs, such as Egyptian Cartoonists Organisation Feco, providing with accomodation and transporton.

We accept different view-points, this site exhibits best cartoons as well as 'interesting' cartoons
Please enjoy arts, instead of the frame itself (no time to follow web-site design principles )

Sorry Feco-news27 (from European Cartoonists Oranization) was returned to Europe by our postoffice(or other group hiding always), FecoNews 29 , for unknown reason, was sent to incorrect address, fortunately, it's in my hand now

this site is stored in excellent servers, our pictures are larger , for better view

A few times (maybe always) certain sneaky hackers're very interested in this web-site



Thanks for e-mail and kind support, script codes, etc from SINA.com, the largest Internet Com in mainland China (Feb. 4, 2000)

A LOT OF THANKS ...
¡@
I was invited as one of
the first batch Taiwan cartoonists to visit
mainland China
in June '99 for cartoons-cultural-exchange
(sorry I could not be there)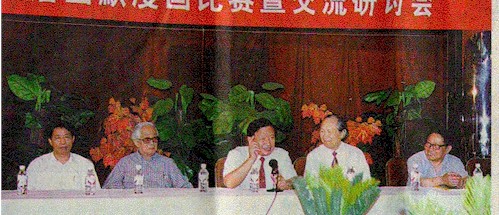 Cartoon cultural exchange activity between the Taiwan Strait was held in mainland China, June '99
photo from Zhang Bin, chief-editor of "City Arts" newspaper
¡@

¡@
I'm sorry ....
some mails 're lost
Great Britian Great Challenge festival
(take 1.5 month to receive an air-packet)
Italia Fano funny festival
(1 month to receive an air mail)
Bulgaria Humour&satire festival
Czech int'l cartoon biennel
(catalogue album lost)
Egyptian artist Aladim
Polish artist J Bendziecha
Greek artist friend


Zola Zu's striding forward for the rightness
regardless of all types of "black-mails" "ugly deeds"
by masked cowards
¡@