Behind the smile, Inside the smile
after 2000 courage world cartoon contest


<Courage Catagory>

Some singers can sing "My Heart will Go On" ( the love theme from "Titanic") very well, touching many people's hearts , may be just snobbish persons in their real life .
But when it comes to artists and their arts , particularly, those arts embodying courage ,
I would rather believe both are equal and consistant
cartoonists are not politician, they're "natural (born to be) enemy" of politicians.

* * * * * * * * * * *
The next year of 2000 will be '1984' of Orwell?
Are we living in a sort of so-called "Brave New World" ?

Have you ever stumbled over a "wireless" , without awareness at all ?
Cartoon is an international language
If you heard kind of accent or dialect, sometimes, it maybe exactly spoke for us (or neighbors, ...)
In real world, political truths are usually ugly and cruel , to explore the truth may be dangerous and difficult
In Courage catagory of this year, a lot of brave artists on earth contributed their courage and qualified works to this show.
They drew critical political themes by sharp wits, and clever skills
No white wash, No mis-leading
All deserve respects
Running dogs have been upgrading continuously
one way or another
politicians may have dirty things done more cleanly
people can be fooled much easilier ( Hitler said it's lucky )

Our steps will leave footprints
Our fists will win applause

<Humour Catagory>

Adults may smile naturally at cute and innocent children
In popular home-video TV programs (ps), we have seen quite a few cute children( or little kids) burst out laughing at stumbling adults
Maybe by nature, living human beings love to laugh at clown or buffoon actions?
Or many laughes come up together with a sense of superiority ?

In Courage World Cartoon Contest of 2000, we do not have too much malicious, malignant cartoons, instead, we enjoy a lot of good ironical sarcasms, smart, witty cartoons, rich in cultural diversity, being satire upon the humanity, mirroring the reality ....
Some cartoons not only take you out of your boredon , but also make you think
Some of them reach high artistic achievements
All function well to interest more people in the world to browse our expositions (lots world famous institutes and schools will within 2001 receive my invitation )
* * * * * * * * * * * *
Obviously, To select best of best cartoons is a difficult task

After having consulted with an European international cartoon expert , as well as with Ron Chu , the no. 1 4-panel and gag cartoon cartoonist in Taiwan, top Humour awards were evaluated and decided eventually
It's fair , to offer prizes to all artists cross the high-quality border
¡@
¡@
ps: like "The world Funniest"
¡@
¡@
¡@

¡@

Best of the best
2000 Courage World Cartoon Contest


COURAGE cartoons

Award of Dagger Award of spur Award of Stiletto
L. Drewinski (Ger) Mikmail M. Zlatkovsky (Rus) Kambiz (Ger)

Award of Poniard Award of DDirk Award of goad
Anton Dragos (Rom) Ilian Savkov (Bul) L. Hellman (Eng)

Award of Needle
Mihai Ignat (Rom) Feng (Chn)
¡@
¡@


HUMOUR cartoons

grand prix (humor): EDYPerazzolli (Italy)
1st prize: V. Nenashev ( Russia)
2nd prize: POL (Australia)





SPECIAL prize
M. Phole (Germany)
Emilio Isca (Italia)
Thorstein Eggertsson (Iceland)
Klas (Yugo)



¡@

editorial-cartoon Prize
Keys (Ireland)
A. Lee (singapore)
¡@
¡@

¡@
¡@
Credits to every participant !!
Courage World Cartoon Contest Web-site is ranking (till present)
NO.1 in "cartoon contest" field by AOL.com, world top Internet engine;
NO.1 in "cartoon contest" field by HotBot.com, one of best Internet engines on earth
NO.1 in "cartoon contest" field by Lycos.com, one of best Internet engines on earth
etc
NO.1 in "cartoon contest" field by a very popular mainland Chinese engine and lots Taiwan ones
NO.6 "cartoon" web-site by a world top engine (till 2/2001)


¡@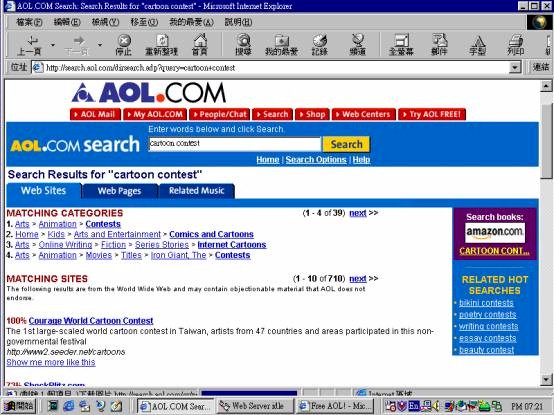 ¡@
¡@

¡@
¡@

¡@
Lex Drewinski
Gold "Award of Dagger" winner obtains (ref original price):
Diploma
Chris. Dior silk tie * 2 NT$6000 ($3000* 2)
Ralph Lauren wool cap NT$ 1700
Charles Jourdan watch NT $7500
Nautica cap (65% wool) NT $800
Ralph Lauren tie * 2 NT $5000 ($2500 *2)
Aigner sun glass NT $ 14000
compact camera NT$ n/a
StarBucks coffee glass NT$300
computer-disk album
¡@
¡@
MilMail M Zlatkovsky: "Tommy Hilfiger" sweater , "Aigner" sunglass ,
"GM" fashion watch, "StarBucks" coffee glass, Diploma, disk album

kambiz: "YSL" sweater , "P. Picasso" sunglass, "Christian Dior" socks, "Ralph Lauren" wool cap , Diploma, disk album

EDYPerazz: "P. Picasso" sunglass, "Pringle" golf sweater, Diploma, disk album


¡@

¡@
¡@

¡@
Around 120 prizes were mailed out in July 2000
(originally planned to send top 3 prizes only )
¡@
¡@
most packets sent by sea-mail <random order>
¡@
Marlene Pohle : "Guy Laroche" silk tie (NT $3200) ,"Ralph Lauren" cap
Emilio Isca: "Guy Laroche" silk tie (NT$3200)
Ye Ting: "Armani" shirt
Feng G Bo: "Armani" wool sweater
Xia DaChuan: top brand silk tie made in Taiwan, "Ralph Lauren" POLO cap
Louis Postruzin : "Lacoste" Jacket , "Guy Laroche" key-chain
Aristides E H Guerrero : "Lacoste" Jacket, "Guy Laroche" key-chain
Bess: "Ralph Lauren" shirts, "Giorgio Armani" long socks
Louis Hellman: france made "Lacoste" wool sweater
Willem Rasing : "Lacoste" T shirt, chopstick
Thorstein Eggertsson: Macau shirt, Italian design tie
G. Keyes: "Ralph Lauren" POLO cap
Anton Dragos: France made "Lacoste" wool sweater
Mihai Ignat: France made "Lacoste" wool sweater
Gennady Chegodayev: "Ted Lapidus" wool sweater
Tawan C.: "Ralph Lauren" wool cap
Valentin Druzhinin: wool sweater imported from Ireland
Klas: "Valentino" pen, Swiss made hankerchief
V. Nanashev: France made "Lacoste" wool sweater
Ilia Spitsevov: "Ralph Lauren" wool cap, leisure hat made in Italia
Slawomir Luczynski: "DKNY" fashion cap, "Raplh Lauren" wool cap
Murate Alimov: "GANT" jacket
Arkadiusz Szadkowski: "ESPRIT" wool sweater
Danny De Haes: "Aeropostale" pink dress shirt
D'hoop Freddy: classic scarf
Ronald C. Dias: classic scarf
Sakic Zijad: "Ralph Lauren" wool caps
Adam Lee: tie
Alberto Jerez Benitez : classic scarf
Khezri Kaveh: classic scarf
and so on (N/A)

< other prizes by Sea-mail and by Air-mail not listed in here >


each winner receive a sheet of diploma and/or a disk album (stored some interesting cartoons ) ,
detected virus by "Norton 2000" and "Pccillin", but no guarantee for the peirod of delivery
No presents will be sent to those artists who did not write their addresses on the back of works
Please note if any packets lost in delivery


¡@
¡@
¡@

¡@
Successful Cartoonists List


(chosen artists after 1st round)
| | |
| --- | --- |
| Ali Divandari | Miroscan Jakovgev |
| Ali Reza NasRati | Dinger Pilgir |
| Amir Abbas Tabrizi | Oleg Loktiev |
| Andras Toth | TAWAN C. |
| Alberto JEREZ Benitez | Costel Patrascan |
| Aristides E Hernandez Guerrero | Liviu STANILA |
| Ayan Guha | Turon Asan |
| Bess | Julian PENA-PAI |
| Budi Schmuckle | Mihaita Porumbita |
| BV Panduranga Rao | Erdogan Basol |
| Chen Gang | Zbigniew Kolaczek |
| Cholamreza (Bahram) Azimi | Karic Henad Kan |
| Claudio M Kappel | A. Borigen |
| D¡¦Hoop Freddy | UGO Sajini |
| Danny De Haes | Diritti Umani Liberta Di Parola |
| Desnoyer Jacques | Erik Magnusson |
| Detchko Nikolov | IL Goo Kang |
| DMC Brock¡¨peoro¡¨ | Lubomir Kotrha |
| Dr Jan Tomaschoff | Anton Dragos |
| Dr Satish NS | Elif atamaz asicioglu |
| E.Etmanzadeh | Vladimir Stevovic |
| Eduardo Caldari Jr | Emilio Isca |
| Fardeh Saedmehr | Soudabeh memarzadeh |
| FarHad Pour Mohamad Khan | Nickolaj KAPUSTA |
| FarHang Pour Mangan | Sichenko Sergey |
| Feng G Bo | Ireneusz Parzyszek |
| Fernando Hincapie Echeverri (F Pica) | Richard Camara |
| Flavio Jose Teixeira de Almeida | Murat Alimov |
| Frantisek Kratochvil | Cristian Topan |
| Fred Jefferies | Ernest KOCSIS |
| Georgi Karaliev | Kiddo |
| Gerald | Vakhitov Fareed |
| Ghadir Vaghari | Blagojevic Zoran |
| Gustav Krippl | Origone |
| Hamid Reza Azezy | Kamil Yavuz |
| Helmut Jacek | Horia CRISAN |
| Henning Stuudte | Vladimir Crivoi |
| Hercules de Almeida Mendes | CoRVI Cabriele |
| Huseyin Cakmak | Florian Doru CRIHANA |
| Iiia Spitsevov | B. Erenburg |
| Ilian Savkov | Hassan Bleibel |
| Ivailo Nikodimov | AARON |
| Jalal Rahmaty | Jugoslav Vlahovic |
| Jorge Luis Neves Ferreira J Neves | Kazuto Kazase |
| Juan F Villarruel | Michael Tetievski |
| Kambiz | G. Keyes |
| Lex Drewinski | Semerenko Vladimir |
| Louis Hellman | Peoro PMC Brock |
| Louis Postruzin | Arkady Tzykun |
| Mahdi Karimzadeh | Miloradovic |
| Marlelo Calado | Corvi Gabriele |
| Marlene Pohle | Mihai Ignat |
| Maryann Katourian | Abdulkadir Demirhincli |
| Miguel Angel ZuZiga Rodriguez | Arkadi Saltykov |
| Miroslow Nowak | ASAF Bvdak |
| Mohammad Amin Aghaey | Kazanevsky Vladimir |
| Mohammad degman zarsav | Vladimir Gorban |
| Mohammad fiezabadi | Blatnik |
| Mohammad Pegman Zarsan | Miro Stefanovic |
| Mohammad Rezababaer | Ali Akbar Ehrahimi Nejad(dajen) |
| Mohammas Reza Babaei | Ahmet Erkanli |
| Morteza khanali | Valentin DRUZHININ |
| Mostafa Hossein Nia | Gecelmo Gomes De Dliveira |
| Nader Hafezi | AZIM |
| Nagraj Hegde | Mehmet Oguz Gurel |
| Navid Borhan Elmi | Ismail Kar |
| O-SEKOER | Pierpaolo Perazzolli-EDYPerazz |
| OYA Gubuk | Lubica Konkova |
| Oya Gubuk(Dogan Arslan) | MilLMail M. ZLATKOVSKY |
| Patrick Heymans | Mellana Claugio |
| Peiman Rezaei | Young Jin Kim |
| Peiman Rezaei Jafari | Klas |
| Reiner Schwalme (AGD) | Krachtchin Nickolai |
| Reza Arebestani | V Nanashev |
| Richard&Slavomir Svitalsky | George GAVRILEANU |
| Ronald Cunha Dias | Takashi Itoh |
| S Abolfazi Mortazavi | Dmitri Markin |
| S. Abolfazi Mortazavi | Khezri Kaveh |
| Saeid Rahimi | M Roya Khedmati-Z |
| Saleh Tasbihi | Maryam Katourian |
| Seyed Ali Miraee | Mehdi Zarnoosheh Farahani |
| Shabnam Shokry | Seyit Saatci |
| Shah Ali | Mikael Botscharov |
| Siamak Khazeni | Haro Dominguez Luis |
| Slawomir Luczynski | Giogio Giaiotto |
| Stanistaw walicki | Adam Lee |
| Sun Shen Ying | Jozef Jablonski |
| Tamer Youssef | Gennady CHEGODAYEV |
| Valery Lyutov | Yamgirchiev Salijan |
| Vilanova Paulo V.M. | Marino Tarizzo |
| Walter Rottiers | Vorontsov Mikola |
| Wang Zhu Hua | Arkadiusz Szadkowski |
| Willem Rasing | Viacheslav BiBiSHEV |
| Xia Dachuan | Bogustaw Popowicz |
| Yasamin Jegane | Vadim Shevchenko |
| Ye Ting | Norman B Isaac |
| Yourik Karim-masihi | Srdjan Jovanovic |
| Zhang Ya Ming | Bocian |
| ¤è¤ÖµØ | Cor Den Dulk (D) |
| §N«Û¥­ | ±i¤åÙy |
| §õ»ñ»í | |

¡@
¡@
¡@