night clubs massage parlors street girls low-end tea shops 6~10 Diao-Tong others (call girls, sauna, on the net, studio, coffee shop)
Forbes 3-19-2017 reported that there're at least 10 million women work in China's sprawling sex trade. Taiwan seemed even worse, Apple Daily reported at 12-25-2014 that the government's survey found: Taiwan ranks world No.1 by the percentage of the number of consumers visiting porn industries (八大行業) of all the adult males, about 30 million Taiwanese in time visited porn industry. The latest paper of National Chung-Hsing Univ. (July 2018, professor C.H. Wu, Y.M. Liu) pointed out the annual output value of Taiwan's sex industries is about NTD 2 trillion, which is close to the amount of Taiwan's central government general budget of 2019 (United Daily, editorial, 12-24-2018: the highest ever budget ), it's not a secret that both politicians (gov. officials or persons in power) and underworld gangs yearn to have their fingers in the big pie. Such a big subject matter certainly deserves to be studied.
How's Taiwan's prostitutes ? Are they pretty ?
Wikipedia's interlink WikiSexGuide (Dec. 2018, http://www.wikisexguide.com/wiki/Taiwan) : One can find prostitutes in massage parlors, spas, salons in Taiwan. Although prostitution remains illegal in Taiwan, over 2 million clients pay for sex. According to UDN (聯合報) 7-27-2014, there're 3 categories of Taiwan's prostitution, Thailand massage parlor ranks No.1. But, most working females in Thai. massage parlors are "dama" (middle-aged aunts) from communist China. In China, clients have very young (aged 20+-) prostitutes in the price of USD30 or so, which is a lot cheaper than that of Taiwan. Those women Chinese clients don't buy became Taiwanese main dishes.
Apple Daily news (Dec. 25, 2014) reported a scholar's study ― the reason that barber shops and massage parlors in Taiwan offer "something additional" to "spice it up" is to help Taiwanese with depression and to overcome sexual repression. According to Next magazine (No.722) and an university paper, many Taiwanese customers do it also for "entertainment", casual fun-fun, wine&dine schmooze, and exchange of powers... , so, it's an output from Taiwanese cultural structure ("文化結構下的產物") ◦
Besides, Media like United Daily, China Times, Liberty Times, etc reported in 2018 that Taiwan's "New Southbound Policy" caused "fake tourists, true prostitutes", the number of foreign prostitutes hit the top, some of them work for massage parlors. It's hard for police to check their social security status.
Strict enforcement failed to root out sex industries, therefore, Holland, Germany, Japan, Korea, etc already took it into complete management by the laws. Why is Taiwan still a hypocrite to avoid this issue? According to the China Times 1-18-2015, Taiwanese politicians prefer their political future and benefits rather than human rights issue on the prostitution ―― a paper of TongHai Univ. (2012, professor Chi C.C., Chang Y.M.; paper of Sun Yat-Sen U. same viewpoint ) pointed out human smuggling syndicates hold the final decisions of their girls' physical autonomy, hence Taiwan's prostitution is about same as the Middle Age slavery, furthermore, police and enforcement officials taking bribery, carrying off prostitutes, blackmailing them, are equal to a structural crime syndicate. The police declared Taiwan's severe crackdown on prostitution, but the 'results' was roughly 1/10~1/2000 of Singapore's. General consumers were hiding and running like criminals, sometimes were ripped off and , possibly, were exploited.
If I recall, in once most popular porn hotel <根萊(goodnight)> of Taipei, some of my Euro. American senior computer engineer friends each spent about NTD 10,000 on Singaporean girls in there, but seemed not too happy..., about the same time, Korea's red-light district, Cheongnyangni, offered pretty university students in the price much much less than the above. Today's Korean college students in Seoul's Yeong Deung Po red-light district, about aged 20~30, asking about USD60 for full service (ref to KoreaExpose, 6-13-2017) . In Taipei's low-end night clubs, USD70~100 for one hour one girl's topless dancing, in Florida's Cheetah night club, very poor students can afford price (USD10-) to see 'numerous' full nude girls all night long ( girls on all tables nearby are free ), in world famous French Moulin Rouge, 90 minutes semi naked show by 60 dancers from 14 countries only ask USD116.4 (on-the-net price) . Taiwan's high-end night clubs may cost you about USD1000, some client has been defrauded of NTD 50 millions (SETN news , 10-11-2018), another was trapped to be sentenced 3.5 years by the courthouse ( Liberty Times, 1-1-2019 ).
As for China, Washington Post reported some years ago, the usual price is USD25(NTD700),so many prostitutes that oversupply has forced prices down ―― USD 30 in 2005 and then USD 13 in 2007, over-night price of freelance prostitutes in Shen-Zhen is about USD80, The Star also reported that university students were available as mistresses in China for annual fee between RM9,341 and RM23,352 depending on which university they are studying at. The Next Magazine (壹周刊) of Taiwan reported at 4-21-2017 that China's "下川島" girls ( aged from 14 till 20+) asked RMB 200 (USD30 or so) for about 2 hours, RMB 400 for 24 hours. In here is not to promote immoral behaviour, but to question if Taiwan government officials or etc ripped off its own nationals, just like paying unreasonable high price to buy a car, or very high price to buy a dangerous house (ref to UDN 2-8-2018, 2-9-2018: ● why are there so many tall buildings located on the fault-zone? ● why are poor architectures everywhere on bad geologic grounds ?● why are those shit-hole politicians doing nothing and ignoring urban renewal so as to risk millions of old houses and human beings ?? )
Where's and What's Taiwan sex industry ?

night clubs (夜總會)
United Daily reported at 8-19-2015 that the landmark sexual entertainment district of Taipei never sleeps is around Lin-Sen North Road, Gin-Zou Street (錦州街) and Chang-chun Rd. (長春路). This area keeps a low profile ―― nothing glitter dizzy neon lighting glory as Las Vegas or Japan's 歌舞伎町 (Kabukicho).
Wikipedia's interlink WikiSexGuide (Dec. 2018) also reported: "visit the Linsen North Road in Taipei. This is considered as one of the red light districts to be found in and around the area. "
Taipei's night clubs include low-end's "uniform" club ( 『制服』店) , higher "full evening dress" club (『禮服』酒店), and highest end's "casual dress" club (『便服』酒店). Mirror Magazine and the Liberty Times reported at 9-26-2018 that former president Chen's (陳水扁) son had two night club's top server girls sitting around in lane 159, Lin-Sen N. Rd.
Middle Taiwan's Tai-Chung city is "famous" for its erotic or porn reputation (風化之都),university paper (July 2018) mentioned a slang - "even best-selling food chain-shops close down, night clubs never ( "太陽餅店會倒 酒店屹立不搖") 、The highest-end "Night club <金錢豹> is Tai-Chung city's landmark" !
Tai-Chung city's "porn district" was ZhongShan Rd.(中山路), Da-Ya Rd.(大雅路), Wu-Quan Rd.(五權路), and ChengGong Rd. (成功路),but, today's porn symbol became glorious-palace like high-end leading chains night clubs, secondly, wild and hot style <三百暢飲店>, the next are barber KTV ("理容KTV") offering wine-waitress (女侍陪酒) and massaging services, and skin-care center which is similar to traditional brothel. SETN(三立新聞) 10-11-2018 reported that girls (waitresses) in high-end night clubs have better quality, clever manipulative skills to make clients feel in love , to butter clients up (by acting vulnerable...), ...
Sexual business is thriving in southern Taiwan's Kao-hsiung city too. Most taxi drivers may give tourists a good direction.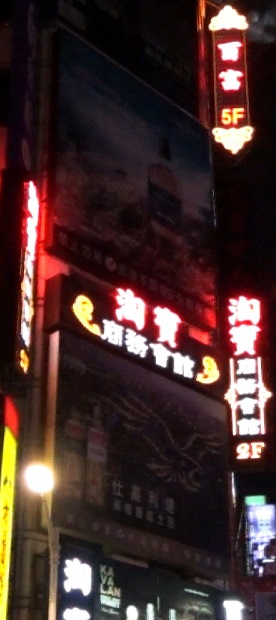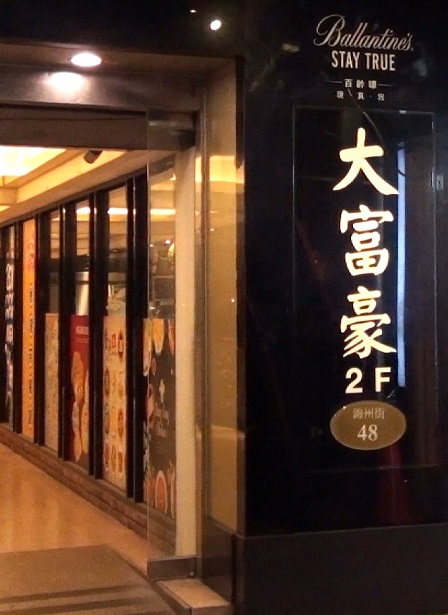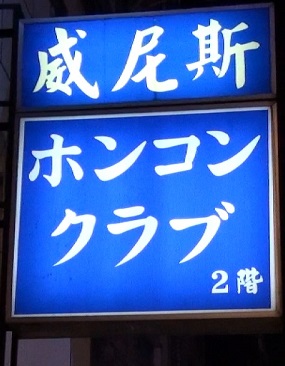 ★ pic. left: The simple rule of Taiwan's 3 different kinds of night clubs is the younger, the more expensive. The "casual dress" clubs (Taipei) or "Full evening dress" clubs (Tai-Chung) offer the prettiest girls and cost you the most - price varies. The cheapest, "uniform" club's girls aged 20 ~ 30, ask about NT2000 for the 1st hour's topless tease, NT5000 for 2 hours in total for "half service" (半套), ......


★ pic. middle: Taipei's "Full evening dress" clubs (『禮服』酒店) have better look girls, but provides no topless tease, clients may pay more than NTD 10000 to buy waitress's hours (take the girl out) for further services ... "Casual dress" clubs in Taipei usually cost you more. (ps: Tai-Chung city is different, "Full evening dress" clubs are high end)
According to a paper (徐新淵 2009) of Central Police University, the avg. "to go" sexual transaction price is about NTD 3600~6000, half service in the clubs is about NTD1400.

 

Most clubs are pretty low-key, and hang no big bright neon sign-board, e.g., the club <嘉麗寶> investigated by the prosecutors in 2018.

 

★ In Middle Taiwan, among Tai-Chung city's night clubs, <金錢豹> ( means "leopard" or "jaguar" ) is the best known and most expensive one, the girl price is NT200 per 10 minutes, so, staying one hour costs you NT12,000 (about USD 400), plus private room fee and wine, ... etc. In contrast, American best full nude night club "Cheetah " of Florida, got extremely economic price USD10 ( very poor students can afford the costs to enjoy numerous nude girls all night long ) and better girls, its name "Cheetah" is more stylish witty than "leopard", cheetah is slender (graceful thin), long-legged, fastest, and "TEAR strips" on face ...,but "leopard" is short-legged, big head..., and have no those metaphors ...

 

 

★ In southern Taiwan, the Liberty times (自由時報) reported at 1-1-2019 that one client spent USD 3000+ on TaiNan city's clubs but got nothing sexual in return, another one bought waitress hours and was trapped to pay settlement USD8000+ and 3.5 years prison sentence. The solution is : having a familiar client thru club's executive staff to pick up right waitress (the secret code is 「可以秀」or「掛功能」) for you, and make sure the club did write down 2 keywords "勾" 、"秀" on their "notebook" about your transaction, to protect yourself from crimes like offense against sexual autonomy, in that if there's no other witness on the site, and no any proofs supporting you, the legal situation is disadvantaged to you.

 

★ Many Taiwanese police and enforcement officials cover up porn business. CTN(中國時報) 5-17-2018: police (中山分局) suspectedly sheltered night clubs in Lin-Sen N. Rd. Tai-Chung City prosecutor found in 2016 that police caught but let go sex traders, this is just "a tip of a large iceberg". UDN(聯合報) 12-2-2018: In 2016, Taiwan police crack down on prostitution but only arrested foreign prostitutes 287 persons in total , in 2017 the number rises to 640. CTN 5-5-2015: Police declared the most severe crackdown on prostitution (「淨城掃黃」全面掃除色情),eventually, only found 3 illegal cases in massage parlors... In contrast, Singapore police arrested foreign prostitutes 5200 persons in total, which increased 126% compared to previous year 2003 , under the circumstances of a red-light pier opened for 'legal' prostitutes in Singapore already...

 

 

 
★
★

massage parlors (養生館)
★ (1) Thai style massage
Wikipedia's interWiki WikiSexGuide (Mar. 2015) " there are Thai massage places all over Taipei and most places you have a good chance to find extra services".

 

According to The United Daily News (7.27.2014) and Apple Daily News (4.12.2014), many massage parlors in Taipei (Taiwan capital) involve or actually run porn business. Prostitution businesses in Taiwan are, firstly, Thai massage parlors (「掛羊頭賣狗肉」的按摩店(或養生館)), second, call-girls controlled by agents, thirdly, individual working studio or so-called one-woman brothel (「一樓一鳳」).

 

The China Times (Jan. 13, 2015) analyzed those massage parlors without room-door-locks are not running erotic business, but if this news-report is correct, probably there is no any erotic massage parlors in Taiwan. The truth is Taiwan's massage parlors were very aware of the legal boundaries, and already exploited a legal loophole to run business ― keeping each private massage room's sliding (side-pull) door closed but unlock (or set a small window on the room-door), so as to be in a legally "public" status, in practice, no one passing by will open the door to disturb "business" inside. Taiwanese police and prosecutors certainly can see with half an eye all these tricks, but they just play deaf-mute on erotic transactions like this.

 

Most massage-girls in Thai massage parlors came from China (mainland), particularly Fujian province (Fukien) . Workers usually are widows (married to Taiwanese) or a wife of bogus/sham-marriage ( aged 30-45, few are aged below 30), some others came Taiwan by using the law, e.g., in the name of "Principle of Dependence on Relatives" or by using legal loopholes, e.g., short term travels in the name of doing aesthetic medicine, minor cosmetic/plastic surgery, stow-away, etc. Most Thai masseuse have rather plain (or worse than plain) look, you (very) hardly find anyone of them being as delicate (or pretty) as the massage girl Shiao-Maam ("小蠻") or blind massage girl Do-Hong ("都紅") in the communist Chinese-French film <Blind Massage> which swept Taiwan's 2014/2015 Golden Horse movie awards.
Recently, Taiwan's "New Southbound Policy" caused a lot of South-East Asian girls entered local sex business. The Liberty Times (1-8-2019) reported a massage parlor in New Taipei is filled with Vietnamese girls aged 28~35, NTD1300~1800 for 2 hour massage, additional NTD1000 for full service (intercourse), or NTD800 for half service, sometimes even free charge to attract customers to come back again.

 

 

This sort of parlours are everywhere in Taiwan, in Taipei, most of them are located in Zhongshan District (around Min-Sen E. Rd. (Sec.2), Min-Sen W. Rd., Min-Chuan E. Rd., Chang-chun Rd., Gi-Lin Road, etc) , Da-Tung District, WanHua Dist. (Kun-Ming St.), also you can easily found some in sec. 4, Ba-de Road and sec. 5, Nan-Gin E. Rd. , Hua-Xi Street night-market tourism area...... (Tea houses in lanes connecting Hua Xi St. offer different kinds of sex transactions )

 

 

Besides Taipei, the Next Magazine (壹周刊,No.703) reported the largest erotic-massage base filling with Vietnamese women is in Da-Li district and Tai-Ping district of Tai-Chung City (middle Taiwan). The density of porn business (massage parlor, etc) is almost the highest among cities nationwide. "New Southbound Policy" leads to lots of South-East Asian girls traveling to Taiwan working in sex industries. FTV(民視 挑戰新聞) 12-26-2018: Vietnamese gangs are very fierce, malicious and clever, they control Vietnamese girls to sell their body by drugs or even applying for college registration.

 

pic. Taipei street views (ads.)
★
★ (2) high end / Taiwan style massage center
They offer good quality of massage as well as luxury environment and atmosphere - customers have private room, comfortable barber-chair, heart-delighted music, freezing air-condition, and a cable TV, basic price for pure massage is about NTD1000~1300, other services including nail care, pedicure, hair-cutting, expert foot massage, etc. You can select pretty massage girls aged 20+(very few under 20), or senior massage female usually with better massage skills and stronger muscle, energy doing Zhi Ya (指壓).。 The Liberty Times reported at 3-17-2008: The module of sexual trade in here is client buying massager's hours (paying take-out fee to the massage center) in advance, then take the girl out to hotel whatever for sex intercourse. The paper of Central Police University (Hsu S.Y., 2009) or Chung Hua University (professor Liao YihHsing, 2012) : The price of "Buy 2 hours to go" is about NTD 800, the price for sex transaction is usually NTD3000. One massager girl told me they don't have good reputation, but some of them still married a right guy (usually means a rich man).
 


 

 

 

 

 

 

 

 

 

 

 

 

 

 

 

 

 

 

● pic. left: Another popular barber shop massage, Gin-Hua Town (京華城時尚館), was just reported by <Want Weekly> ("周刊王", 10-21-2015) that in some evening a married city-cuncilor, Dai Xi-Qin (市議員戴錫欽), stayed in there for 3 hours. <Want Weekly> also calls it a "hand-made" (手工), erotic/porn (情色) shop, but was rarely investigated or/and caught (查緝) by police since being opened in 1994, Taiwan's police leader Chen Guo-Ann (陳國恩 '17) was the police chief in charge of Song-San District where Gin-Hua Town massage parlor was under his jurisdiction. Want Weekly reporter also faced hot-body girls often walked around the lobby, but not every woman in there offers sex service for money.
● pic. right : a popular massage center since 1994

 
★
★
ps: 照片經藝術變色處理

pic. left: This massage parlor near tourist site Taipei Circle (

圓環

) and police station make a large board advertising ( metaphor phrases like "sexual happiness"(幸福), "coquetry", "flirtatious"(風情) ) and a red lantern being hanged at front door (pls. ref. to world famous Chinese film "Raise the Red Lantern") to hint it may be a porn business. However, police seem ignore those signs, have they ever check what's going on inside?

 

pic. right: Zola Zu's cartoon

 
★
★
★ (3) low end / out-of-date barber shops
★
Some barber shops having large black or almost opaque door-height windows as front facade offering sex transaction seldom survived till now, there're only some (about 10+) "old fashioned" barber-shops in Taipei, e.g., around Yan-Ping S. Rd. & Han-Kou St. (and in Kun-Ming St. , "博愛特區"), doing pure massaging for NT700~800 per hr., or/and do "half-package" ("half" means 'masturbate', "full service" means making love) for about NT1000/hr. ~ NT1600/90 min. (price varies, taking-out service price bargain) by middle-aged (usually 40, 50 even outdated up to 70) Taiwanese ( some are house-wife style Taiwanese, others are terrible-looking Taiwanese, a few red Chinese "house wives", and very few aged 30 ones) (Mar., '15, Fall, '18), in small-sized barber-chairs of a preserved-in-time working unit separated by sort of office furniture screen, or cotton curtain, or a window door ― darkness builds a wall for protecting each 'couple's little privacy, these sort of nostalgic (since 1970+) barber shops give older guests a trip down memory lane, but are less competitive than Thai. massage parlors. In Sept., 2018, an old-brand barber shop namely "群爺" in Xi-Mun Din ("西門町", a popular tourists district) was closed.
★
TVBS 3-17-'08 reported, the prosecutor thought there's no wall and door to separate each 'room', so it's difficult to conclude any sexual trade being over there, hence did not charge any one involved. (news.tvbs.com.tw/local/163408)。 The Liberty Times reported at 3-17-'08 that client had sex with massager on a small barber chair, 'rooms' were separated by cotton curtains. Apple Daily reported at 6-6-2003, porn barber shops are near Taipei police station (within 100m), those massagers older than your mom asked NTD 1500 for half package, NTD 2000 for full service. ps: Till present 2018/2019, most barber shops are still there, some was renamed.
★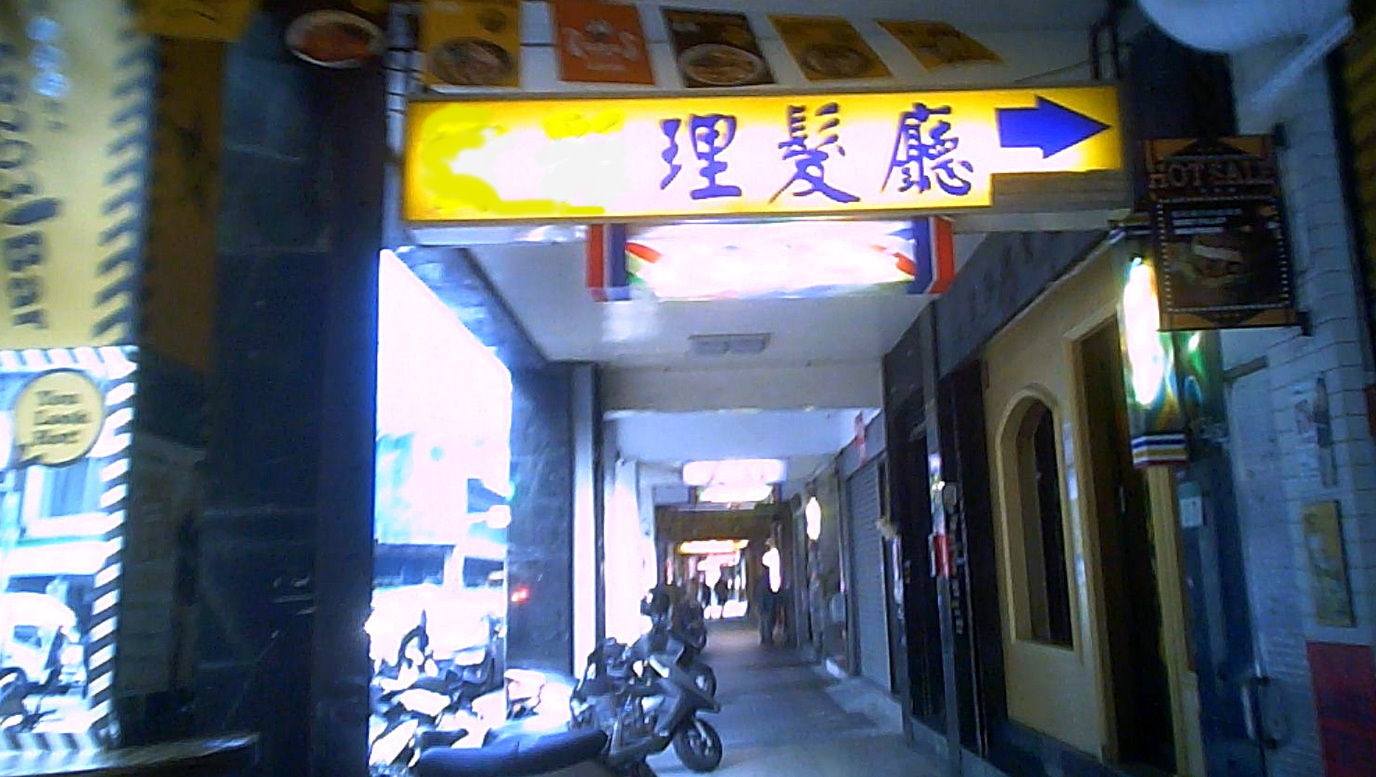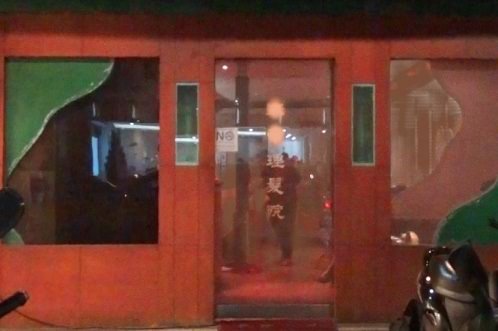 ● pic. left: the main difference between Thai massage parlors and dark barber shops is the latter one has more older Taiwanese massagers looking like passing through all odds or vicissitudes, and a barber pole at front of the shop, their regular clients probably are older men.
● PS: university paper mentions even those opposing sex industry don't oppose men without regular sex partner can have sex with prostitutes.

 
★
★

street girls
★
pic. left: United Daily
12-2-2018;
"porn business are tough "

 
 
★ The Liberty Times (自由時報 ), 2018-10-27, "北市「暗巷選妃」? 萬華街頭艷女排排站等「配對」 ", "外籍賣春女郎阻街拉客,環肥燕瘦供嫖客挑選"
Street girls in WanHua were middle aged and older domestic women asking NTD 1000- for 15 minutes, now, things changed, street girls are new coming South-East Asians wearing tacky clothes walking around GuiLin Rd. (桂林路) 、Kun-Din Rd.(康定路)、Wu-Zou Street(梧州街) and lanes in very late night and early morning, NTD 1500 for 15 minutes, client once agree the deal, will be taken to suite room nearby.
★
★ United Daily (聯合報), 12-2-2018, " 新南向後… 外籍人士來台賣淫數攀高峰"
Taiwan's "New Southbound Policy" caused "fake tourists, true prostitutes", the number of foreign prostitutes hit the top, the porn domain has changed
Currently, 4~5 out of 10 prostitutes are South-East Asian girls , they got better working attitude, NT1000 for 15 minutes, young and pretty ones ask higher price, the hotel or suite room is their main 'battle field'。
Local sex-workers said it was 10 clients per night, now was forced down to 5 or less, a street girl eliminated by night club said she can earned NT 6000~80000 per month.
★
★ The China Times (中國時報), 9-8-2018, 1-23-2018, 10-28-2018
Today's sex market has females from China, Vietnam, Japan, Korea, Philippines, Indonesia, Thailand, and Russia, Ukraine - price starting usually from NTD 8000 or NTD 10000 (same price as 20 years ago)
★
 

pic. left 1~3 : Wan-Hua street girls wearing tacky clothes are looking for clients
● Walking through GuangZou Street, street women kept asking you "NT600" for something special ...

● Lots of sex workers standing around GuiLin Rd. (桂林路) 、Kun-Din Rd.(康定路)、Wu-Zou Street(梧州街) for your selections, clients may feel they are ancient emperors ... which is a good way to relieve stresses caused by Taiwan's bad economic !

● Those Chinese females are willing to be "a bird in the cage" or "goods for selling" , for a dream of gold rush, and the Chinese culture of "the society looks down the poor rather than the hookers" , besides, they don't have any other better options...

pic. right: Apple Daily (蘋果日報) 6-22-

 

 
★
★

low end karaOK、tea shops
★
Busness Weekly 3-14-2017 reported that servers in low-end tea shops usually are aged 40~50, youngest are about aged 30, in this sort of place, labor class clients can have "face" (『做足面子』),spending NTD 3000~ 5000 to be a 『rich pa pa (大爺)』,spending NTD 10000 is a very generous king, you may spend up NTD 20000 within 3 hours (ref to businessweekly.com.tw/article.aspx?id=1926&type=Blog林立青作)
★
ETtoday 9-22-2013 reported that some tea shops don't have a clear menu for clients, hence, easy to have dispute about the bill, advise clients to bring "enough" money before having fun in here ... (ettoday.net/news/20130922/273044.htm)
★
I asked a number of taxi drivers that why spending about same money on old women instead of young girls ( Taiwanese singer Chou Tzu-Yu aged 19 and French Thylane Blondeau aged 17 just entitled "The most beautiful woman 2018" by TC Candler. VOGUE 1-27-2016 : "the average model age still hovers at around 17" ) , the common answers are they don't have that kind of heart to XXX young little girls, it's easier for them to have pleasures with older women.
Likely, the worst "violence" or cruelty comes from both Taiwan's politicians and underworld gangs (yearning to have their fingers in the big pie), instead of clients paying the sex. Ref. to BBC 2-25-2016, "Inside the topless sisterhood", world best nudity show Moulin Rouge was described as "tyranny", "exploitation", "backstage bullying", "bare their breasts ... baring our souls"...
★
 
 

 

● pic. left : tea house and karaOK near WanHua's HuaXi Street tourism night market
● pic. right: out-of-date karaOK shops returned after lots of Chinese street girls moving to WanHua

 

 

6~10 Diao Tong
★
Diao-Tong in Lin-Sen N. Rd is Japanese "territory" for entertainment, open from 8 pm, most are members only, or Japanese only.
China Times (中國時報) 3-13-2018 reported that this area has many (數十間) Japanese KaraOK, night clubs、bars、and massage shops, which are full of sex trades, usually in 5 Diao-Tong and 6 Diao-Tong, Taiwanese girls who speak Japanese were major servers in here, but now the Diao-Tong brought in Chinese girls craning Japanese language for business, recently, lots of South-East Asian prostitutes came into the market ...
The police has seldom cracked down the area, but some police directly and boldly asked some business to pay bribery, which again damaged the image of Taiwan police.

Red light district : it's closed about 20 years ago
 

● pic. left : "Window" shopping
Korea Seoul's Cheongnyangni red light district has many college students as sex workers, according to Korea University studies, 23.1% of Korean males have their first sexual experience with a prostitute, Cheongnyangni is about to close for urban development, another red light district Yeong Deung Po also has many 20~30 college major sex workers。 It's hard to find such economic worth-the-value working girls in Taiwan.

 

● pic. right : Taiwan's WanHua red-light district did not look as good as Korea's, those rooms were like a messy Van Gogh's La Chambre a butts。
Although Taiwan's justice and interpretation document agreed managing red light districts is easier than dealing with individual working studios, for the past years, Taiwan's politicians kept avoiding the issue of building a red-light district, for their political future and benefit -The votes in local elections are the main things. No one wants a red-light district nearby.

 

Others
According to The United Daily News (7.27.2014) and Apple Daily News (4.12.2014), Prostitution business in Taiwan are, firstly, Thai massage parlors (「掛羊頭賣狗肉」的按摩店或養生館), second, call-girls controlled by agents (應召站) to hotel or your home, thirdly, individual working studio or so-called one-woman brothel (「一樓一鳳」).
Cell phone has been used by sex trade syndicates. The Liberty Times, reported at 2-13-2016 that many cell phone chat software, e.g., 「LINE」、「WeChat」、「BeeTalk」、「SKOUT」、「Badoo」、「Paktor拍拖」、「遇見」,gradually became clients' favorite platform for sex trade. The syndicate attracts clients by chat on the net, sends messages to them and asks them to join LINE group to see call girls' photos and video ...
The paper of Central Police University (Hsu S.Y., 2009) or Chung Hua University (professor Liao YihHsing, 2012) mentioned there're 2 more categories : (1). Sauna (三溫暖) - sexual transaction in private room (2). Special leisure coffee shop (特種休閒咖啡) - Clients come in, select girls and bargain the price 。
 

 

 

 

 

 

pic. left: The prostitution hits soft !
The power covering up the sex business is the key of everything about it. Police and enforcement officials taking bribery, carrying off prostitutes, blackmailing them, ... are equal to a structural crime syndicate. Although some policemen are good and hard working ones.

 

pic. right: brothel, call-girl ring, individual working studio, underground economy are hidden from the view in the cities. Even "have a tea" is a secret code for the clients and the business.

 

 

 

 

pic.: visual parody cartoons of satire & humour

 
Jan. 2019
★ content of this article came from papers, major media, and interviews, just for your references