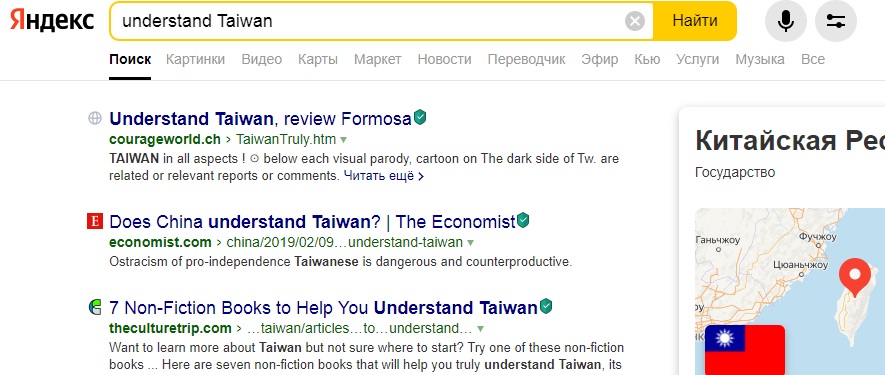 pic.: the website-group was ranked No.1 "understand Taiwan" on Yandex of Russia, 2023-9-22, 2023-8-22, 2023-8-8, 2023-7-25, 2023-7-10, 2023-6-24, 2023-6-1, 2023-4-30, 2023-3-23, 2023-3-4, 2023-2-28, 2023-2-19, 2023-1-21, 2023-1-15, 2023-1-1, 2022-12-24, 2022-11-29, 2022-11-1, 2022-10-31, 2022-10-10, 2022-10-4, 2022-9-20, 2022-9-13, 2022-8-20, 2022-7-21, 2022-7-1, 2022-6-24, 2022-6-15, 2022-6-2, 2022-5-25, 2022-5-14, 2022-4-30, 2022-4-21, 2022-4-9, 2022-3-25, 2022-3-20, 2022-2-22, 2022-2-14, 2022-1-29, 2022-1-4, 2021-12-27, 2021-12-10, 2021-12-4, 2021-11-10, 2021-10-28, 2021-10-22, 2021-10-8, 2021-6-16, 2021-6-2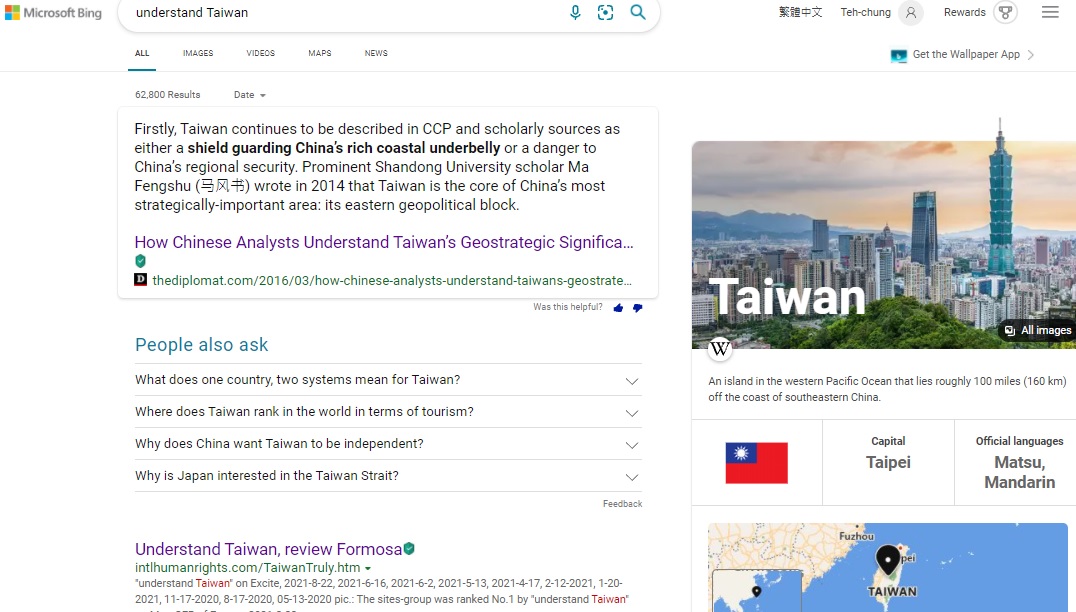 pic.: The websites group was ranked No.1 "understand Taiwan" on Microsoft Bing, 2023-9-22, 2023-8-22, 2023-8-8, 2023-7-25, 2023-7-10, 2023-6-24, 2023-4-30, 2023-3-4, 2023-2-28, 2023-2-19, 2023-1-22, 2023-1-15, 2023-1-1, 2022-12-24, 2022-11-29, 2022-11-1, 2022-10-10, 2022-10-4, 2022-9-20, 2022-9-13, 2022-7-21, 2022-6-15, 2022-6-2, 2022-5-25, 2022-5-14, 2022-4-30, 2022-4-21, 2022-4-9, 2022-3-25, 2022-3-20, 2022-2-22, 2022-2-14, 2022-1-29, 2022-1-4, 2021-12-27, 2021-12-10, 2021-12-4, 2021-11-10, 2021-10-28, 2021-10-25, 2021-10-22, 2021-10-8, 2021-10-5, 2021-9-30, 2021-8-22, 2021-6-30, 2021-6-16, 2021-6-2, 2021-5-15, 2021-4-17, 3-5-2021, 2-12-2021, 1-20-2021, 1-1-2021, 11-29-2020, 10-10-2020, 8-5-20208-17-2020, 6-21-2020, 5-13-2020, 4-3-2020, 2-26-2020, 2-5-2020, 12-31-2019, 12-10-2019; No.2 "understand Taiwan" on Bing, 2022-8-21
The websites group was ranked No.1 "understand Taiwan" on ecosia (Germany), 2023-9-22, 2023-8-22, 2023-8-8, 2023-7-25, 2023-7-10, 2023-4-30, 2023-3-23, 2023-2-19, 2023-1-22, 2022-12-24, 2022-11-29, 2022-11-1, 2022-8-20, 2022-7-21, 2022-7-1, 2022-4-30, 2022-4-21, 2022-4-9, 2022-3-25, 2022-3-20, 2022-2-22, 2022-2-14, 2022-1-29, 2022-1-4, 2021-12-25, 2021-12-4, 2021-11-10, 2021-10-28, 2021-10-22, 2021-10-8, 2021-10-5, 2021-9-30, 2021-8-22, 2021-6-16, 2021-6-2, 2021-5-13, 2021-4-17, 3-3-2021, 2-12-2021, 11-17-2020, 8-17-2020; No.2 "understand Taiwan" on Ecosia, 2023-3-4, 2023-1-1, 2022-10-10, 2022-10-4, 2022-9-20;
No.1 "understand Taiwan" on Yahoo Taiwan, 2023-8-8, 2021-9-30, 2021-8-22, 2021-6-16, 2021-6-2, 2021-5-13, 2021-4-17, 3-3-2021, 2-12-2021, 1-20-2021, 11-17-2020, 8-17-2020
pic.: The websites group was ranked No.1 "understand Taiwan" on Lycos, 2023-9-22, 2023-8-21, 2023-8-8, 2023-7-25, 2023-7-10, 2023-4-30, 2023-3-23, 2023-1-22, 2023-1-15, 2023-1-1, 2022-12-24, 2022-11-29, 2022-11-1, 2022-10-10,2022-10-4, 2022-1-28, 2021-10-8, 2021-9-29, 2021-8-22, 2021-6-16, 2021-6-2, 2021-5-13, 2021-4-17, 3-3-2021, 2-12-2021, 1-20-2021, 11-17-2020, 8-17-2020, 5-13-2020; ps: No.1 "understand Taiwan" on SearchEncrypt, 2023-1-22, 2022-10-10; No.1 "understand Taiwan" on Excite, 2021-10-8, 2021-8-22, 2021-6-16, 2021-6-2, 2021-5-13, 2021-4-17, 2-12-2021, 1-20-2021, 11-17-2020, 8-17-2020, 05-13-2020;
The websites group was ranked No.1 "understand Taiwan" on Swisscows (Switzerland), 2023-8-8, 2023-7-10, 2023-6-22, 2021-12-4, 2021-11-10, 2021-10-28, 2021-8-22, 2021-6-16, 2021-6-2, 2021-5-13, 2021-4-17, 3-3-2021, 2-12-2021, 11-17-2020, 8-17-2020, 6-21-2020; No.2 at 2023-7-25
US defend Taiwan ?

◆ The Hill, 2023-9-26

D

uring a Tokyo interview alongside Japanese Prime Minister Fumio Kishida, Biden repeated his statement on defending Taiwan: "That's the commitment we made." But, when asked whether "the policy of strategic ambiguity towards Taiwan [is] dead," he replied "No."

◆

National Review, 2023-9-19

It

'

s noteworthy that Biden declined to say a single word about Taiwan

in

h

is U.N.

s

peech

came a day after the Chinese Communist Party

'

s armed forces sent 103 jets into Taiwan's air-defense identification zone — which is a new record that surpasses even the Chinese tantrum that followed then–House speaker Pelosi

'

s visit to Taiwan.
◆ Washington Post, 2023-9-28: Taiwan launches the island's first domestically made submarine for testing

♦ CNN, 2023-9-28: President Tsai Ing-wen hailed this as a significant milestone. "The submarine is an important realization of our concrete commitment in defending our country".

 

♦ Newsweek, 2023-9-29: Taiwan's former military leader who heads the submarine program said that the slated eight Hai Kun-class boats would bolster the country's defenses to the point that "I don't think we will lose a war.".


♦ BBC, 2023-9-28

:

National University of Singapore

Drew Thompson

:

the "centre of gravity" for any China-Taiwan naval conflict would not likely be in the deep waters off the island's east coast, where submarines would be most effective in

...

Instead, the main theatre of war would be in the shallower waters of the west coast facing mainland China.

..

The submarine is not optimised for a counter invasion role...
♦

NewsWeek, 2023-9-29: A

senior researcher

at RAND:

The relatively shallow, choppy waters of the Taiwan Strait were well-suited for masking submarines but also harder to operate in.

Policy experts in the U.S. have urged Taipei to adopt an asymmetric defense strategy based on "lots of small, deadly things—anti-ship missiles, anti-air missiles, etc.—that would make Taiwan a porcupine." Such an approach would become more useful, and submarines less so。
♦

The Diplomat, 2023-9-30:

T

he ODC

(

typically utilizes large numbers of cheaper, smaller, shorter-range, and more survivable weapons systems.

)

appears to have fallen out of favor as a result of institutional opposition, even though the United States has sought to pressure the government to focus on less gold-plated procurement projects.
 
◆ Reuters, 2023-9-28: Taiwan says" it's not likely for them (China) to do anything major to threaten Taiwan or anything so visible that the Taiwanese people understand that they are trying to intervene in our election" ◆ Economist, 2023-9-26: Taiwanese voters will in effect be asked to decide whether Taiwan should remain aligned with America in strengthening deterrence against a possible Chinese invasion, or should move towards building ties with China. The opposition Kuomintang has called the vote a choice between "war and peace", implying that the ruling Democratic Progressive Party's hostility towards China will provoke it to attack. China...narratives that portray America, not China, as the island's biggest threat. ◆ Washington Examiner, 2023-9-26: Americans are increasingly concerned over tensions between China and Taiwan, with more than 80% reporting the problem is "somewhat" or "very serious" for the U.S. ◆ full text
◆ The Daily Caller, 2023-9-24: China is on the fast track to wage war against Taiwan — and the US, experts say. China has been preparing for the possibility of fighting the U.S. over Taiwan going back to around 1996 or 1997 after realizing Washington intended to preserve the status quo of Taiwan's semi-autonomy, experts explained. ◆ 19FortyFive, 2023-9-21: China is building a powerful military to beat America in a war over Taiwan; China is readying for war today ◆ 1945, 2023-9-20: China's military is preparing to invade Taiwan . China's military has developed advanced methods for depriving the Americans of their vaunted advantage in space, threatening the US in the cyber domain, and possibly disrupting the electromagnetic (EM) spectrum to sabotage American forces ◆ New York post, 2023-9-19: PLA would have to do a combined amphibious and airborne air assault operation, which is an incredibly complicated joint operation to be able to do ◆ Reuters, 2023-9-19: Chinese blockade of Taiwan would likely fail, Pentagon official says ◆ Military, 2023-9-13: By 37% to 22%, Americans on a bipartisan basis believe we should militarily protect Taiwan ◆ Daily Express, 2023-9-9: China has reached the "height of its power" which may prompt Beijing to launch an invasion of Taiwan, former National Security Advisor John Bolton exclusively told Daily Express US; the United States was not ready ... - something which Beijing would see as an "opportunity"◆ Foreign Policy,2023-9-5: China could exploit its geographical proximity and advancing capabilities to win a regional war against Taiwan. U.S. deterrence against China ( to convince Chinese President Xi Jinping that an attack would fail. ) is not working. The U.S. military may merely need to raise China's perception that any conflict would be drawn out and exceedingly costly. ◆ American Legion, 2023-9-6: Some predictions have estimated war could break out as early as 2029. Dr. Shelley Rigger, a Davidson College professor, acknowledges that such forecasts are made with careful thought, research and analysis. Still, she says, it's a situation in flux. ◆ Washington Examiner, 2023-9-6: Former President Donald Trump hinted that he would not order a U.S. military intervention against China were it to attack Taiwan ◆ Daily Express (UK), 2023-9-2: WW3 fears explode as China warns US of 'imminent storm of lethal consequences' over Taiwan after President Joe Biden announced more military aid for Taiwan from a fund typically used for sovereign states. ◆ Sky News (Australia), 2023-9-1:Taipei is no Kyiv: Taiwan is playing a dangerous game by using the war in Ukraine as an 'inspirational' example of how to fight off an invading force ◆ Daily Express (UK), 2023-8-27: China sparks major war fears as dozens of aircraft and vessels either crossed the median line of the sensitive Taiwan Strait or breached Taiwan's air defence identification zone in a major escalation. Former Defense Intelligence Agency officer Matt Shoemaker told Daily Express US the chances new military packages will repel an invasion are low. ◆ The Telegraph, 2023-8-22: China's Taiwan invasion: Battle for the Strait will be a colossal missile duel ◆ Washington Examiner, 2023-8-22: China boasts record-high military recruitment, if military aid (Taiwan war) is needed, America's sagging recruitment numbers could be a problem.
Using Foreign Military Financing (FMF) program to transfer military aid to Taiwan will likely infuriate China.

USA

China

♣ CNN (2023-8-30): US approves first-ever military aid to Taiwan through program typically used for sovereign nations

♣ Bloomberg (2023-8-31): The Foreign Military Financing mechanism covers international organizations as well as nations
♣ VOA News (2023-8-30): previous arms sales to Taiwan have been approved under other authorities that do not necessarily imply statehood. U.S. officials were quick to say that the provision of FMF funding to Taiwan did not represent a change in policy. It's a position the Chinese are sure to disagree with
♣ The Hill (2023-9-1): the first time the U.S. has provided military assistance under FMF to Taiwan and the second time it's given it to a non-nation-state, the first being to the African Union.

♣ The Hill (2023-9-1): China says it 'deplores' US military transfer to Taiwan
 

♣ GT (2023-8-31): Whether it was Biden's use of "presidential authority" to provide military aid to Taiwan in late July, or this first-ever military aid through the so-called "Foreign Military Financing program," Washington is impatiently applying the model of military assistance to Ukraine to the Taiwan region.
Council on Foreign Relations, 2023-8-29 China VS. Taiwan

 

China

Taiwan

active duty forces
2

,

035

,

000
170

,

000
artillery
9

,

800
1

,

200
principle su

r

face combatants
139
57
fighter jets
1900
300
bombers and attack aircraft
450
0
submarines
71
2
cfr.org/blog/taiwan-announced-record-defense-budget-it-enough-deter-china
◆ The Conversation, 2023-8-16: According to some Taiwanese observers, the people of Taiwan would be unwilling to pay such a heavy price (Ukraine is paying a heavy price in terms of lost lives and a shattered economy) to preserve its political autonomy. ◆ The WarZone, 2023-8-16: Taiwan's arsenal of counterstrike weapons like the HF-2E would not be sufficient to outright stop an actual invasion from the mainland. ◆ The Hill, 2023-8-8: More ominously, the failure of the world's toughest-ever sanctions regime to bring Russia to heel could embolden China's expansionist designs against Taiwan, especially since similar sanctions against Beijing would have even less impact. Yet the U.S. is still not giving sufficient priority to deterring a Chinese attack on Taiwan. ◆ Washington Examiner, 2023-8-7: the predictable outcome now seems all but certain: whether during Taiwan vice-president Lai's visit or in the weeks following, the two nations' recent detente will fade amid their intractable political differences ◆ ABC News, 2023-7-30: China has accused the United States of turning Taiwan into an "ammunition depot", which will not deter its will to unify the island ◆ ABC News, 2023-7-28: The Japanese government has stepped up its alarm over Chinese assertiveness and Taiwan tensions, warning in 2023 defense white paper. ◆ Daily Express, 2023-7-23: Japan says: If people all over the world have the will to support Taiwan, it would be very possible that we will provide some kind of support to Taiwan...the government would need to first secure the support of the population before intervening. ◆ Financial Times, 2023-7-23: Washington is reducing some long-term deployments in the Indo-Pacific,...the US's decision to help Ukraine only with weapons and the wavering of some European countries about support for Kyiv do not bode well for Taiwan ◆ BBC, 2023-7-21: Much of the #MeToo focus is still on sexual harassment, and "large-scale exposure" of sexual assault is yet to happen, that can only happen with more resources legal and counselling support from the state. The government must extend the statute of limitations for prosecuting sexual harassment cases, which is currently six months. ◆ Washington Post, 2023-7-17: Taiwan abandoning the One China framework aggravates the risk of war ◆ ResponsibleStatecraft.org, 2023-7-17: War with China over Taiwan? Don't expect US allies (Japan, Australia, Korea, Philippines, Thailand) to join ◆ Reason, 2023-7-19: According to a January survey by the Brookings Institute, 62 percent of respondents said that Pelosi's visit "made Taiwan less secure." ◆ full text ◆
◆ What would be the signs that a PLA invasion is in the planning ?
♦

Economist, 2023-7-27:

China would want to secure adequate supplies of commodities, namely energy ( coal, gas, oil - one of the best indicators ), food and metals (unusual metal-buying patterns, export controls on rare-earth metals ) and

to reduce the country

'

s dependence on the dollar.

China

might move its foreign-exchange reserves out of dollars and euros and into assets such as gold, and probably tighten its capital controls, they also might freeze all foreign funds in China, etc economist.com/china/2023/07/27/could-economic-indicators-signal-chinas-intent-to-go-to-war
♦

National Interest

, 2022-11-

21:

there would be reliable indications, including surging production of various missiles, rockets, and key munitions, China would take visible steps to insulate its economy, military, and key industries from disruptions and sanctions and would start preparing the population psychologically for the cost of the war.

.

..

They might take a strategic advantage, such as by catching the rest of the world off-guard, capitalizing on the chaos and distraction in other countries. nationalinterest.org/feature/china's-new-politburo-has-taiwan-its-crosshairs-205909


♦

Japan Times, 2022-10-18:

some of indications could be a mix of both short- and long-term economic steps to try and insulate the Chinese economy from external vulnerabilities and to minimize China's dependency on the world while maximizing the world's dependency on China. Short-term economic indicators are more likely to signal Beijing's intent. These could include a number of abrupt steps such as freezing foreign financial assets within China, quickly repatriating Chinese assets held abroad, a surge in stockpiling emergency supplies such as medicine or key technology inputs and a suspension of key exports such as critical minerals, refined petroleum products or food. japantimes.co.jp/news/2022/10/18/asia-pacific/signs-china-invasion-taiwan/
news:
◆

National Review, 2023-7-15:

the Chinese military is advantaged if a Taiwan invasion is viewed as a local, limited conflict

...

Janet Yellen

:

If reelected,

president Biden

may prefer not to fight for Taiwan. ◆

CSIS.org, 2023-6-29:

Fundamentally, both the August and April exercises were suggestive of an "encirclement" of Taiwan using PLA Navy forces

;

the April exercises were no less significant than those in August.

◆

Yahoo Finance, SCMP

, 2023-

6-23

:

Council on Foreign Relations (CFR)

called on the United States to "bolster deterrence" against any attempt by Beijing to use "force or coercion to achieve unification with Taiwan"

; T

he Americans were "not keen on" improving ties with Beijing, with Washington tilting more towards "strategic clarity" on Taiwan policy instead of its stated "strategic ambiguity".

◆

New York Post, 2023-6-19:

Blinken ruffles feathers by stating US

"

does not support Taiwan independence

"

– as an inappropriate kowtow to America

'

s greatest adversary.

◆

Bloomberg, 2023-6-15:

US Presses Taiwan Opposition Candidate Over China Policies

;

Washington will want to be assured that

KMT's

Hou has "a clear stance on China and international policy

..."

◆

National Interest, 2023-6-15:

If China launches an invasion without first destroying America

'

s military assets in the region, its ships will be left vulnerable to attack. However, if it launches a preemptive strike on U.S. forces, especially on American soil in Guam, it will experience the full wrath of a vengeful United States

◆

Washington Post

, 2023-6-14:

Biden and Xi recognize that war between the two nations would be suicidal for both. They understand that the most dangerous flash point is Taiwan. While the nations' differences over Taiwan are irreconcilable, irreconcilable does not mean unmanageable

◆

Wall Street Journal, 2023-6-7:

Sexual

m

isconduct

a

llegations

r

oil Taiwan

'

s U.S.-

f

riendly

r

uling

p

arty

.

◆

Bloomberg, 2023-6-7: Taiwan president apologizes twice in week for #MeToo allegations

,

Tsai:

"We've also seen such cases are everywhere, not only in the DPP or other political parties

..."

◆

USNI, 2023-6-7:

on paper Taiwan fields one of the world's most advanced ASCMs, but we don't have the data on actual performed real combat."

;

Taiwan has not been transparent about how many missiles it can make.

there are "rumors [sic] about slow production" related to "hang-ups in the defense [sic] industrial complex" and Taiwan is "struggling to produce large numbers of anything."

;

Taipei has to decide whether to continue dividing resources across two different strategies

- a traditional navy or

an asymmetric one

◆ full text

 
National Interest, 2023-7-16 - Willing to fight ?

China

Taiwan

a study conducted by Adam Y. Liu and Xiaojun Li,

55 percent of the respondents supported "launching a unification war " while 33 percent opposed it

...

another online survey in ThinkChina and Taiwan Inside, 53.1 percent supported armed unification with Taiwan, while 39.19 percent opposed it among Chinese elites.
Instead of making a commitment to defend their territory, most Taiwanese people have a huge hope to rely on external support, particularly from the United States

...

exten

sion of

the compulsory conscription program received backlash from younger Taiwanese.
Taiwan

war

- ready to fight ?

Taiwan

China

◆

Wall Street Journal, 2023-7-5:

Taiwan is far from ready, Taiwan's military budget is still only 2.4% of the GDP—compared with about 5% in Israel.

The professionalism and motivation of Taiwan's military are a particular concern.

A

lot of young people who signed up for the four-year volunteer force decided to pay a penalty and dropped out early because they say they had come for the money—not to fight and not to die

wsj.com/articles/taiwan-china-ukraine-russia-hong-kong-military-war-517b87d?siteid=yhoof2&yptr=yahoo

Yaroslav Trofimov

Joyu Wang

◆

Sky News Australia, 2023-7-8:

Xi calls for 'enhanced war planning'

 

◆ WION 2023-7-7: Xi says the PLA must dare to fight. Beijing has ramped up political and military pressure on Taipeimsn.com/en-in/video/watch/dare-to-fight-chinas-president-inspects-forces-in-flashpoint-region-near-taiwan-details/vi-AA1dxGfN
World's Best Hospitals 2023
by Newsweek & Statista
comparison among Asia's selected ten countries - Taiwan's best hospital ranks world No.249 in top 250 list
newsweek.com/rankings/worlds-best-hospitals-2023

Asia's rank

country

total number of top 250 hospitals

1

Japan

18

2

S. Korea

18

3

Australia

7

4

Singapore

5

5

Israel

3

6

India

3

7

Thailand

1

8

UAE

1

9

Taiwan

1

10

Saudi Arabia

0

Taiwan's NTU Hospital ranks world No. 249
Asia's China, etc are not included in survey list - in total 28 countries

Taiwan's NTU Hospital ranks behind selected hospitals of Thai. and UAE
★

TaiwanPlus,

2023-3-6: A poll