★ <Adventures of National Palace Museum>
NPM web-site (English version)

This site comments

the winner of the prize "animation of the year" Tokyo Int'ernational Anim. Fair of 2008.
(1) The NPM Chinese version web-page mentions: the film obtains "grand prize exhibition", a weird grammar sentence.
(2) Japan's web-pages: "Animation of the Year" award goes to <1.0: You are (not) Alone>
I have no idea which is right ...
describes this animation as "an exciting story of their (the leading actor, "ceramic child pillow") search for a katydid that has flown away from another of the NPM's treasure, Jadeite Cabbage".

(1) Not an exciting story.
(2) The NPM is in Chaos after night, it can be an exciting story, why was the child only interested in that insect?
(3) Suggest readers to compare with some other films like <Night at the Museum>, or classic animation <Statues Que>.

This film "bridges the gap between modern audiences and ancient artworks".

(1) It's for kids, not for modern audiences. The film is showing in children's centre of NPM. Almost all audiences are children when I was there at July 4, 2008.
(2) Children usually love vivid colorful film, not like this film .
 
◎
★ <Cubic Tragedy>: ACM SIGGRAPH Peoples' choice no.1
1) About 10 years ago <TIME>'s article stated Japanese comic strips show a sense of inferiority about their Eastern face ( many Japanese hero-characters look like western person's feature & body structure ), Cubic Tragedy's Oriental face-lifting story may interests Western audiences.
(2) Attendees might feel proud when recognizing (or figure out) Picasso's painting, so as to vote this film as People's Choice award winner.
(3) The author's strategy is smart, however, the Picasso-inspired idea won't surprise creativity experts, because lots of fine-arts inspired and Picasso inspired ideas have already been developed long long time ago, in both West and Asia. ( see pic. below)
(4) The author tried to "design" the girl's face (to avoid "yellow skin") and the Asian eyes (described in the book "Survival of the Prettiest" , or any look like soap "Ugly Betty" ), <Cubic Tragedy> gives the girl a polygonian (square,cubic), pink face just same as certain background.
(5) Americans invest more money in their looks (beauty) than in education, around 1/2 the number of global M.D.s in plastic surgery are living in USA, the surgery may be treated as just a make-up or hair-coloring in the near future. Hence, the pink color may be sarcastic on that girl and many females, however, changing background-color may broaden the theme.
(6) In 1990, there's a widely-known concept arts : a French artist did a plastic surgery on the face, and live show to world arts museums, people can buy this DVD or some skins cut ...... is it an art, a stunt, or a tragedy with various hidden meaning ?
lots of more Picasso inspired ideas're already published, here're some examples
◎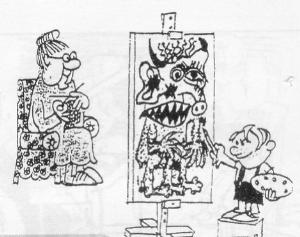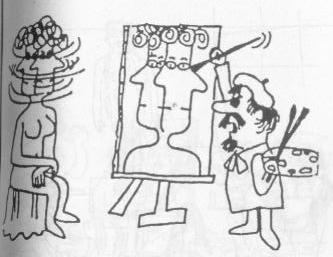 2 examples among Picasso-Cubism inspired cartoons
◎
★ <After the rainy days> winning in UK
1) A western saying : "Chinese are inscrutable", and many western juries, audiences favor stereotyped image of Eastern world - so, many Taiwan's films are on purpose full of exotic flavor, mysterious atmosphere, etc, or go even further : obscure/abstract codes, philosophical arts, poetry like a dream .........
(2) The "arts" are usually decoded to various meanings, depending upon audiences' knowledge and life experience ....... Picasso and a kid both can create same "art-work" i.e., displaying a M. Duchamp toilet, but the kid doesn't mean too much. An empty museum is a concept art, randomly shooting in the street is a Surrealism art. (quoted by John Carey, Oxford U. professor, to comment arts)
(3) Famous Ad book <Visual Persuasion> (U. Penn. USA) mentions Surrealism is sometimes thought of as a representation of dream (lack of logic) imagery and a source of various hidden meanings. However, attempt to read these hidden meaning may run into a problem of over-interpretation. It's mainly an art of eye-grabbing visual paradoxes.
(4) Most audiences only want entertainment, instead of spending efforts in taking a boring philosophy class, or in escaping from a maze.

(5) Great arts can be understandable and popular, i.e., Polish <fallen art>, Canadian <Special delivery>, Korean <Birthday Boy>, are easily understood, and may touch many people's hearts.
(6) Some symbolic tokens seem not so fresh, i.e., a flying graffiti, or fish soaring to the sky. Many times it seems to be easy : for instance, "graffiti" symbolizes rebellion, "flying" symbolizes set to free (or release from tyranny), so, combine both to get a flying graffiti.
(7) Sometimes lyric stuffs may needs obscure (but not too obscure) codes, but, why does mocking-politics kind of film need camouflage?
(8) <After the rainy day> is sort of "arts" animation.
(9) For so many years, Taiwan government loves to do some political propaganda/comm. by attending int'l film festivals with this kind of obscure-meaning films, so that Taiwan fails to communicate with million times of world audiences, this style of movie already led to Taiwan film industry's death.
◎
★ <A Fish with a Smile> (10 min. short film) Jury Committee Special prize, Children's Jury Short Film, Berlinale int'l film Festival 2005
(1) director - C. Jay Shih, Alan Tuan, Poliang Lin
(2) brief - "I once had a fish that was as loyal as a dog, as amicable as a cat, as attentive as a lover". This animation is kind of surrealism languages - deconstructed, inconsistent, hallucinatory, etc.
(3) If you like this anim., also try "EEL", a Japanese made Cannes award winner.
(4) The drawing style is elegant, however, this city looks like Euro's more than Taiwan's.
(5) The nature of animation is closely related to poetry, poetry is related to thinking in nature. I feel university should produce some great theme art-works.
(6) I guess "fish is crying" is a more witty phrase than "fish is smiling". (because fish is in water)
ps: a few other winning anim. can't be found in Youtube, or their school sites
◎
Summary:
Taiwan is struggling from OEM to OBM (because Pixar 3D films and China's cheap labor), Taiwan's animation is skilled in drawing tech., but is short of creativity.
1. Taiwan's society :
Taiwanese people don't think important of arts, culture, creativity, etc.
2. Taiwan government :
Taiwan doesn't have that kind of environment for creativity.
Creativity needs freedom, democracy, and people's independent personality, government officers don't like creativity, which means extra risk.
3. Taiwan's universities :
They made very few research on creativity, produced very very few sharp-witty or entertaining animations.
Wikipedia encyclopedia concluded that Taiwan government has not worked a lot on cultivating college potential ones in animation field, currently is far behind Japan, S. Korea, and perhaps Red China.
◎
● Taiwan Cultural Creative ● Taiwan's Creativity
● "commenting Alessi & NPM of Taiwan" was printed in <United Daily News>, one of largest media in Taiwan ( Chinese language version ) Aug. 2008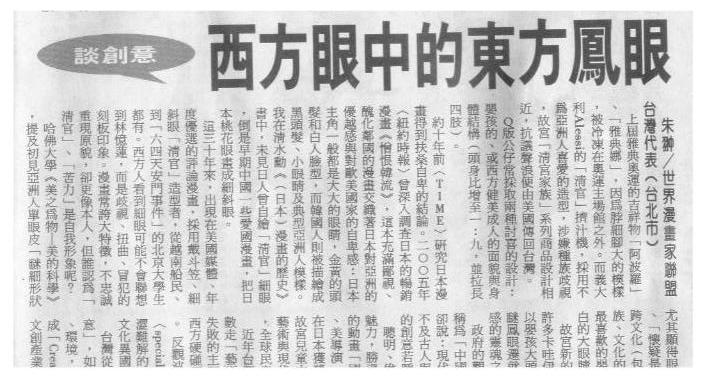 part of article comments in <United News>
◎